Ch-ch-ch-ch-changes! Here at Picmonic, our main job is to keep creating awesome cards. We love that we can take what our users tell us, improve and set the bar higher as we move forward. While our focus is on the new, we can't forget that our past cards might also need a little TLC from time to time. (Think First Aid 2017) If we ever find factual errors, we get on it immediately. When users let us know that they notice something we could improve, whether it be the visuals, the audio, or the story – we set aside time to clean it up.
We don't want to spring surprises on anyone. In order to keep everyone in the loop, you can now see any changes made to our Picmonics in the "Change Log" section by scrolling down towards the bottom of the page for any Picmonic:

This is where you can find information for all updates, along with a date and a reason for the fix. Change can be a double-edged sword, and while most users have been diggin' our recent updates, we've got some feedback saying some prefer the older versions. If it's still available on our site, you'll find a link to the older version here, too. We do recommend studying from the latest versions though, since they'll always be the most accurate!
So you may be seeing some small tweaks, to keep the science 100% accurate and up-to-date, to keep characters consistent, and the art spiffy. It's all a part of the process in taking Picmonic from good to great, and as always – we need your feedback so that we can check up on ourselves as much as possible.
If you ever find an error or inaccuracy in a Picmonic, be sure to let us know so we can jump on it! Just click on the More menu for the fact (the three-dot icon) and select "Report Error". This will flag the fact for review by our content and scholar teams.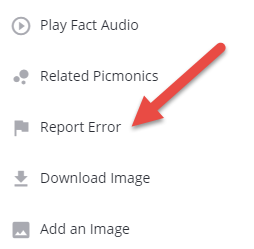 We'd love to hear any other thoughts you have on how we can improve by filling out our dedicated feedback survey, as well!
(Visited 178 times, 1 visits today)